Ariana Grande and friends held a 3 hours long concert to support the victims of the terrible terror attack 2 weeks ago. Some of the artists you could watch were Robbie Williams, Take that, Katy Perry, Miley Cyrus, Coldplay and Pharrell Williams. Watch the 3 hours free concert recording from Manchester.
Marcus Mumford from Mumford & Sons opened te concert with this message:
– Don't let us be scared!
Robbie Williams arrived the stage just after Take That, and the audience screamed: «MANCHESTER, WE'RE STRONG».
And everybody song «Angels» – it sounded like everyone knew the exact phrases and text of the entire song!
It seemed like the entire audience had a great time and enjoyed all the music.
Ariana Grande had planned a different kind of concert. But it was impossible to keep the sad subject with Katy Perry's «Roar» and Coldplay's «Viva La Vida». The super stars contributed to support the victims, but at the same time give the audience a break from their sadness. – I don't feel, hear, see or smell any kind of fair tonight here tonight. I only see positivity, Pharrell Williams said after performing his massive hit song "Get Lucky".
– Everything I feel is love, he said, and he got help from Miley Cyrus to perform his other massive number one song «Happy». – I want to encourage other people to fight for what is right, Cyrus said afterwards. -Ariana is a great role model for all the people out here, she continued. – I think she proved that by putting all this together and allow all of us to be a part of it. I have always loved Manchester, and I am proud of you. Afterwards she performed "Inspire" and dedicated the song to everyone that had been affected by the tragic terror attack.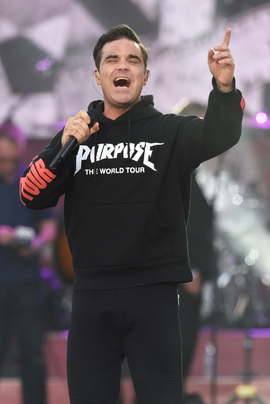 Peter Hook from Joy Division and New Order was interviewed. He is known as one of Manchester's biggest rock star. He told that his daughter joined the Grande Concert 2 weeks ago and was driven to hospital afterwards. After the new accident yesterday, media speculated wether if the concert would be cancelled or not, but Scooter Braun was clear all the time that he didn't want to cancel this charity concert. It just added a second dimension to it!
Watch the 3 hours free concert recording from Manchester "One Love"
Here you can watch the 3 hours free concert recording from Manchester "One Love", proudly sponsored by Google. YouTube is the "official streaming partner" of the concert. It announced last week that it would "absorb all of the costs" for the event.
You can donate here. This fund is being managed by the British Red Cross and Manchester civic leaders. As the British Red Cross has waived its administrative fee, 100% of these funds will go to families. The first round of grants to support urgent needs was disbursed last week. Ticket sales for the "One Love Manchester" concert, on Sunday June 4, will go towards the Fund. Collection buckets in Emirates Old Trafford Stadium, text-to-give appeals, and on-screen appeals for BBC viewers will all direct donations to the "We Love Manchester Emergency Fund. We at Distrita are happy to see charity concerts like this find place, where people give fear a face, and stay together for a safer world. We are stronger together.
Photos: GETTY